Scott Harvey Wines, the initial line of wines in the "Creative Wine Concepts" portfolio, was created out of market demand for Scott's wines – "niche wines that over deliver." The Scott Harvey line focuses on Scott's roots – Zinfandel, Syrah and Barbera from the Sierras. Approachable, food friendly and full of luscious fruit, these wines have struck a chord in the marketplace.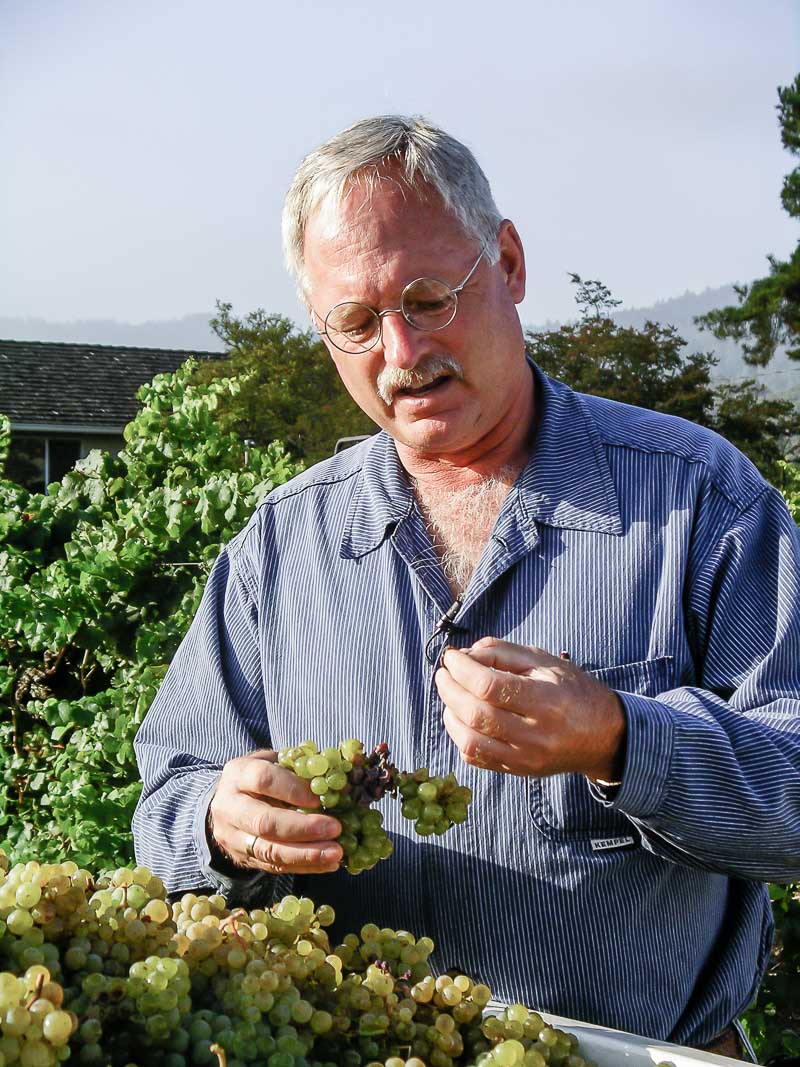 THE EARLY YEARS
Growing up in California's Sierra Mountains Region, Scott developed a keen interest in winemaking as a high school exchange student in the Rhineland Pfalz region of Germany. Scott attended California State University at Sacramento before beginning practical Enology training at Montevina Winery in Amador County. Back to Germany in 1975, he apprenticed at K. Fitz-Ritter Winery while attending the Weinbau Schule in Neustadt. Once again returning to Montevina Winery, Scott focused on all aspects of winemaking and running a winery. From farming the grapes to effectively marketing the wine, Scott solidified his knowledge and experience. In 1978, at the age of twenty-three, Scott took over as Head Winemaker for Story Winery, also in Amador County.
In 1979 Scott developed an ambitious winery plan for the Santino family. As Winemaker and General Manager of Santino Winery, Scott is credited with placing Amador County firmly on the California wine map. Crafting the best wines possible from the soils and climatic conditions of the region, Santino and later Renwood benefited from Scott's German training and innovative style. Becoming one of the leading wineries in Amador County, and garnering critical acclaim, the wine world was paying attention. Amador County was now recognized as a world-class wine-growing appellation.
SCOTT GOES BIG
In 1996, Scott was recruited as Partner, Winemaker & President for newly purchased, Folie a Deux Winery in Napa Valley. Combining forces with Lead Partner, renowned Winemaker, Richard Peterson, Ph.D, a formidable winemaking team was launched. Scott pursued his commitment to award-winning Cabernets made from the Estate Vineyards in Napa Valley while continuing his passion for Amador County Zinfandel. Access to Scott's original Grandpère vineyard in Amador County and close relationships with premier Amador County growers, resulted in award-winning wines all around for Folie a Deux. In addition, Scott's creation, the "Menage a Trois" line of wines, was an instant commercial success. In 2004, Folie a Deux, now a respected brand, was sold to Sutter Home/Trinchero Winery.
SCOTT HARVEY WINES IS BORN
Scott was finally positioned and ready to start his own venture, and he had the ideal partner – his wife, Jana, a wine industry veteran.