March 30, 2018 |
Monica Bennion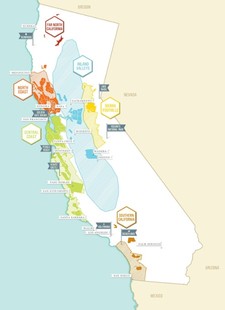 Let's play a little word association game. I'll give you a word or phrase; you tell me what first comes to mind:

(1) California's Wine Country
(2) Gold Medal Winning California Wines
(3) Old Vine Zinfandels
(4) Barbera

Now, let us give the conventional answers:

(1) Napa Valley
(2) Again…Napa Valley
(3) Jammy fruit bombs that are high in alcohol
(4) That's not how you spell Barbara…and what does she have to do with wine?
For those of us who live in California or are familiar with California wines, we know that good wines come from the upper North Coast all the way down to the Southern California border, and everywhere in between.
California is home to some of the best wines in the world, and is only surpassed in production (not necessarily quality) by Italy, France and Spain. While Napa Valley may have solidified its claim to fame at The Judgement of Paris in 1973, there are a vast number of wine regions in California that have been producing award winning wines for decades; many still unknown or thought to be insignificant in the world of wine.
For those who enjoy Scott Harvey Wines, you already know better. Some of the best wine in the world comes from the fifth smallest county (in terms of square miles) in California; Amador County. Within the 600 square miles that makes up Amador County, about 4,000 acres (less than 1%) consists of wine grapes. But the grapes grown within that 1% produce some of the best wines in California, if not the world.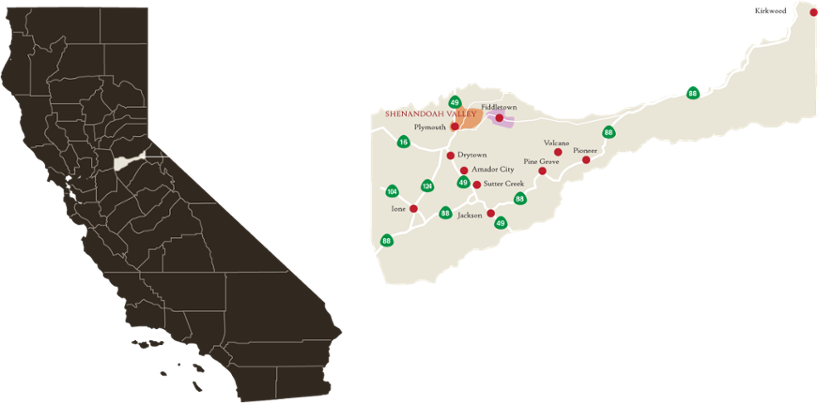 The Making of California's 2nd Gold Rush:In part one of our two part blog, we visit some of Amador's deeply rooted wine history, including our own little piece of history in the Vineyard 1869 as well as the new shining star, Barbera.

During the 1850's, California was flooded with prospectors staking claims and digging for fortunes, mining for their pot of gold. The biggest surge of miners passed through Northern California and the Sierra Foothills, home to vast veins of this precious metal. While some succeeded in finding prosperity, most were fooled and left "holding the pan". But all of the mining, successful or not, made the "49ers" thirsty, thus resulting in the planting, cultivating and fermenting of grapes to make wine to quench their thirst and ease the hard days.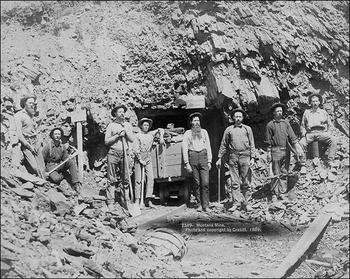 The Sierra Foothills nearly fell off the map, with regard to wine production, when gold mining ended with the 19th century and the initiation of Prohibition started in the 1920s. The miners deserted their camps and vineyards were left to wither and die. It wasn't until the 1960s when new "prospectors" started the second "Gold Rush" of Amador…winemaking!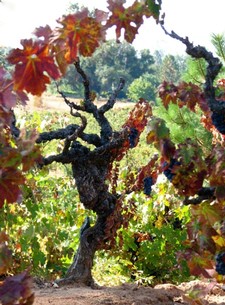 While numerous vineyards were planted in Amador County during the 1850's, the oldest documented vineyard is one of our very own; the Vineyard 1869. A land deed from an 1869 U.S. Geological Survey notes a fully established vineyard on the property that is home to our historical Old Vine Zinfandel grapes (as well as some Barbera). LEARN MORE ABOUT VINEYARD 1869 HERE.
Today, of Amador's nearly 4,000 acres of wine grapes, over 600 acres are over 60 years old, and several date back to the 19th century. These older vines are often non-irrigated and must rely on their roots to dig deep for water. These stressed grapes produce bold, complex and multi-faceted wines that you won't find anywhere else. These wines are often produced in the Old World style with low alcohol and balanced pH, making them perfect to pair with food.
More recently, Amador County has unearthed another piece of California gold by cultivating Barbera vineyards. Hailing from the Piedmont region of Italy, this variety was first planted in Amador County in the 1880s, but didn't really gain traction as a known variety until the late 1990s. Barbera vines are adaptive to a variety of soils, but thrive in decomposed granite and volcanic soils, and enjoy a little heat during the summer days with cooler evenings. This describes Amador County perfectly. Originally used as a "blending" wine, Barbera is now taking Amador County, California and the nation by storm. Barbera is a versatile, food friendly wine that goes well with Italian style meals, vegetarian meals and a variety of cheeses. READ MORE HERE ABOUT AMADOR'S SHINING STAR
Let's revist our little word association game now. I'll give you a word or phrase; you tell me what first comes to mind:

(1) California's Wine Country
(2) Gold Medal Winning California Wines
(3) Old Vine Zinfandels
(4) Barbera

Here are your new answers:

(1) Amador County, California
(2) Again…Amador County
(3) Complex, balanced and multi-faceted
(4) Sure to be your new favorite wine!
Just how many grapes does it take to make up Amador's "liquid gold"?
Download our Free Vineyard to Bottle Sheet to find out!